We pride ourselves at Franken for delivering high-quality construction services to our clients. But we wouldn't be able to do this without an extraordinary team.
Meet Taylor Koch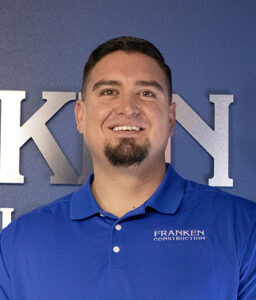 One of these exceptional team members is Taylor Koch, a project manager. Taylor started with us in December of 2022.  Taylor was born in Portales, New Mexico, and raised at Conchas Lake. He holds a bachelor's degree in Construction Management and has been working in the construction industry for 11 years. He has experience with a wide variety of projects. He's worked on multifamily facilities, senior living facilities, healthcare facilities, and office buildings, to name a few.
As a project manager, Taylor has to have a unique combination of skills. Besides an in-depth knowledge of engineering technology and construction techniques, his role requires top-notch management skills as well. It also demands strong leadership, skillful budgeting and planning, making decisions under pressure, and excellent communication and interpersonal skills. Taylor is the point person for the client, the team, and vendors on his projects. It's his job to hold everything together.
It's a critical task — that's why we're very picky about our project managers. We're proud to have team members like Taylor who go above and beyond with every project.
Taylor is currently involved in the hippo pool renovation at the ABQ BioPark, the UNM student success center, and CNM trade school building.
Work With Us
We want our clients to rest easy knowing their projects are in capable hands. If you're ready to make your construction project a reality, contact us.